MeCan is a one-stop supplier of medical, laboratory and educational equipment to the world.

We will try our best to provide cost-effective medical equipment for your hospitals and clinics, just contact us and I am sure we will become your partner.
For more information on Operation Lamp, please click: https://www.mecanmedical.com/operation-light.html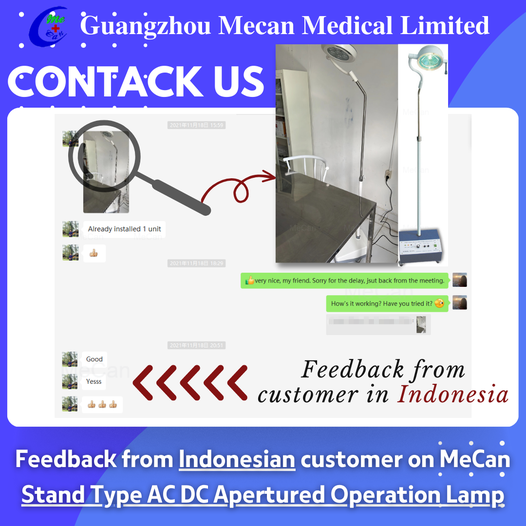 Features
1 An imported LED cold light source is adopted as operation lighting. As a genuine cold light source, there is almost no temperature rise at the doctor's head or the wound.
2 The white LED has a feature of color temperature which is different from the light source of common shadowless lamps for operation. It may enhance the chromatic aberration between blood, other body tissues and organs, and it thus helps the operating doctor to have a clearer view.
3 Digital means are adopted for stepless regulation of LED brightness. The operator may adjust the brightness based on his/her own brightness adaptability.
4 The color temperature can be adjusted as preferred or according to the type of surgery.
5 The LED shadowless lamp is pure-DC power supplied, without any strobe or harmonic interference with other equipment in the working area.
6 The imported switch power supply is adopted to control the voltage, making the work voltage permanently stable.
7 The removable handle sheath can be disinfected at the high temperature of 135 ∩.
8 A special optical system is adopted so that the light is evenly illuminated on the observed objects in 360∑, without any virtual image and with high definition.
9 The service life of LED shadowless lamp is long (50,000h), far longer than that of traditional tungsten halogen lamp (1,500h), and it is over twenty times of the service life of energy saving lamp.
10 LED has high luminous efficiency and it is impact-resistant and strong to resist crumbling, without mercury contamination. The light it sends contains no infra-red or ultraviolet radiation pollution.
11 The no welding titanium alloy arm and the streamline-designed lamp cap better meet the design requirements of modern clean laminar flow operation rooms. Its fashionable appearance provides a new attraction for hospital operation rooms.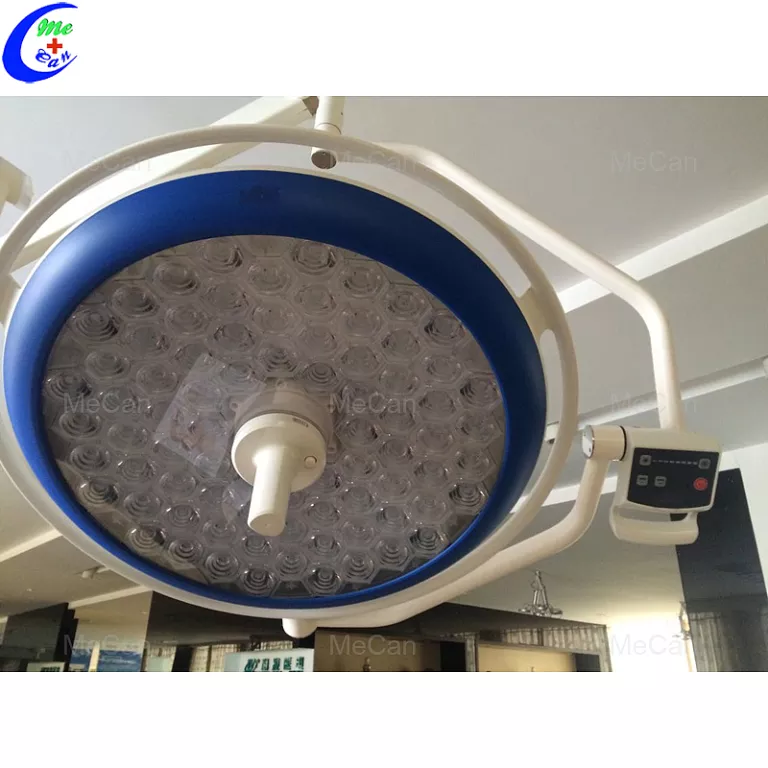 FAQ
1.What is your warranty for the products?
We have a professional R&D team that continuously upgrades and innovates products.
3.What is your lead time of the products?
40% of our products is in stock, 50% of the products need 3-10 days to produce, 10% of the products need 15-30 days to produce.
Advantages
1.Every equipments from MeCan gets passed strict quality inspection,and final passed yield is 100%.
2.MeCan provide one-stop solutions for new hospitals, clinics, labs and universities, has helped 270 hospitals, 540 clinics,190 vet clinics to set up in Malaysia, Africa, Europe, etc. we can save your time, energy and money.
3.More than 20000 customers choose MeCan.
4.MeCan offer professional service,our team is well-tained
About MeCan Medical
Guangzhou MeCan Medical Limited is a professional medical and laboratory equipment manufacturer and supplier. For more than ten years, we engage in supplying competitive price and quality products to many hospitals and clinics, research institutions and universities. We satisfy our customers by offering comprehensive support, purchase convenience and in time after sale service. Our main products include Ultrasound Machine, Hearing Aid, CPR Manikins, X-ray Machine and Accessories, Fiber and Video Endoscopy, ECG&EEG Machines, Anesthesia Machines, Ventilators, Hospital furniture, Electric Surgical Unit, Operating Table, Surgical Lights, Dental Chairs and Equipment, Ophthalmology and ENT Equipment, First Aid Equipment, Mortuary Refrigeration Units, Medical Veterinary Equipment.