Laboratory Dental Instruments Dental Equipments Class B Dental Autoclave, Dental Handpiece Steam Sterilizer
Model: MC-KM16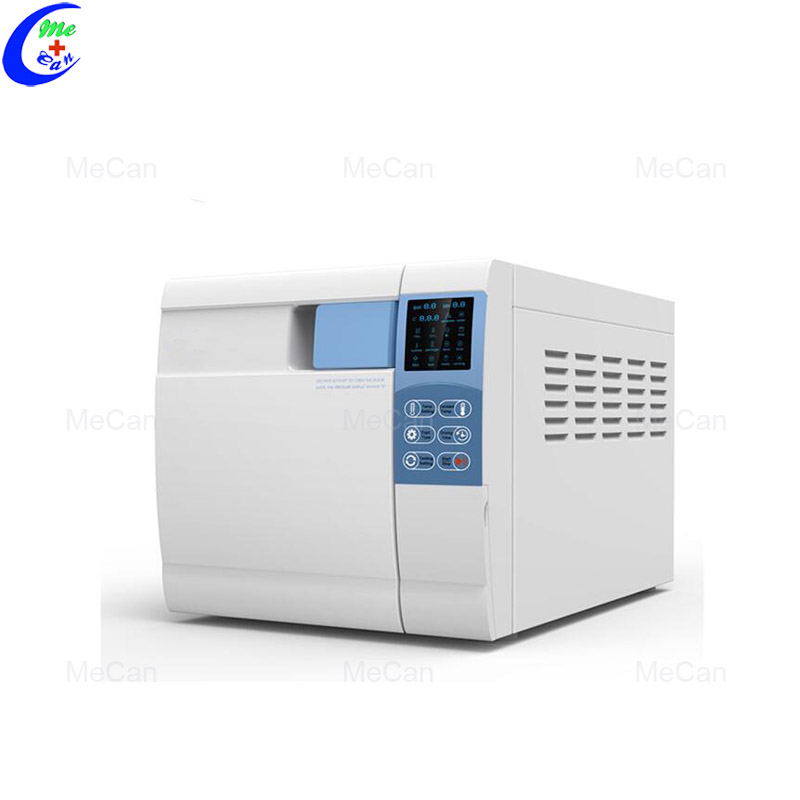 Features
1. Standard Class B with three times vacuum and drying, the remaining temperature of sterilized instrument is less than 0.2%.
2. The vacuum data can reach -0.8bar,it fits various instrument, including package, unpackaged, solid, hollow, multi-apertures
and inset pipes. It makes sure the instrument can be sterilized completely.
3. Fuzzily computer controlled, digital bright show. The interface is modularized panel for easy operation.
4. It is installed with BOWIE&DICK which measures the penetration of water steam.
5. it has vacuum text which can make sure the ability of texting vacuuming.
6. Sterilization cycle self-comment.
7. Fast and independent steam generator.
8. Large capacity instrument tray made of SS. SU304.
9. Safety lock and triple temperature.overload protecting
10. Auto/Manual water adding
11. Inset cleaning device
12. Special function of creating medicine cotton and sterilizing rubber items
13. Handsome aspect and good quality
14. Cristal LCD display
15. 5-Button panel with the LCD display, so convenient.
16. Warning message, Error is made easier to judge.
Tips
1. Please place the sterilization on a plane place , which could adjust the height by adjusting foot pad
2. Please adopt distilled water to extend the service life
3. Don't block the heat removal system on the surface of sterilization
4. Please put the instruments on the tray not touching one another allowing space for steam to pass through
5. Please empty the used water tank frequently. Usually it need empty when the clean water in the reservoir is empty.
6. Please ensure the door handle is closed tightly
7. Never try to open the chamber door if and when the pressure display doesn't show "0.0"
8. Please cut off the power and cool down the auto clave before maintenance
9. Don't drag the machine while moving
10. Power connection must be grounded properly
11. Must be provided enough power. (23L:2300VA/18L:1800VA)
12. While the outside temperature is too low, please pre-heating the machine without instruments for 30 minutes before sterilize
13. Don't cut off the power to stop the machine directly. If you need stop the machine directly, please press the "START/STOP" button for 3 seconds.
Specifications
Model (LCD/ LED)

16 L

18 L

23 L

Classification

Class B

Insulation Class

Class II

AC Power

220V/50Hz; 220V160Hz; 115V/60Hz;

Power Consumption(Aver)

1700W

1800W

2000W

Mains Fuses

F 15A

Noise Level

50 dB(A)

Test Programmers

Helix/BD Test; Vacuum Test;

Working Temperature

121ºC-134ºC

Pre-Heating Time(From cold)

Approx 20 mins

Net /Gross Weight

39KG/45KG

43KG/49KG

45KG/52KG

Chamber Dimensions

230*360 mm

250*380 mm

250*380 mm

Extenrnal Dimensions(L*D*H)

625*425*456 mm

Package Dimensions(L*D*H)

755*584*532 mm

Operating Environment


Temperature: 5ºC-40ºC Relative Humidity: max 80%, Non condensing Height: max 3000 m (a.s.l.)

Capacity of the Distilled Water Reservoir

Approx. 5.0 L (water at level MAX)
More information of our MC-KM16 Dental Autoclave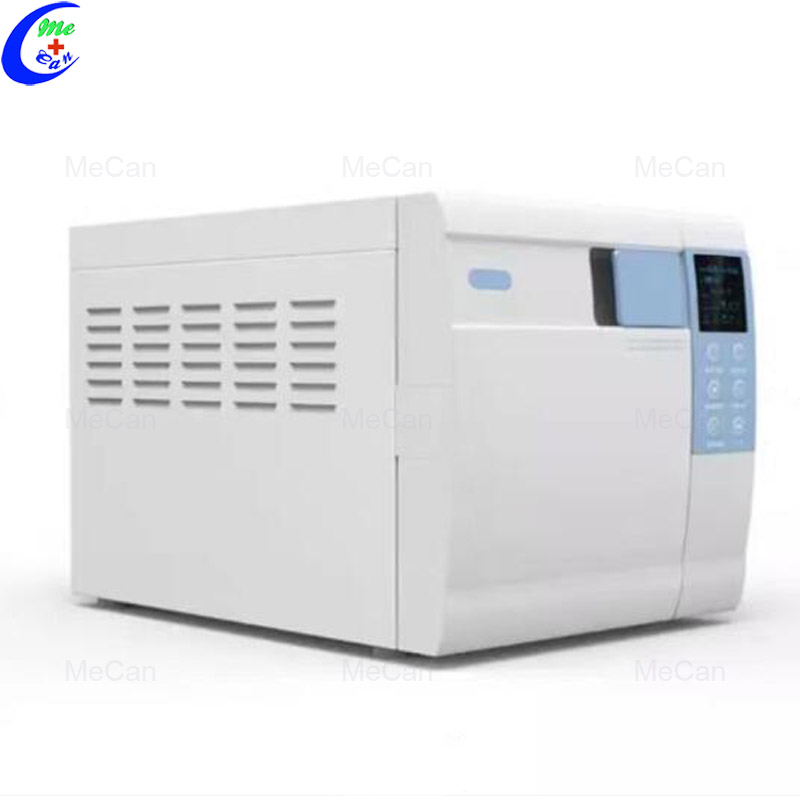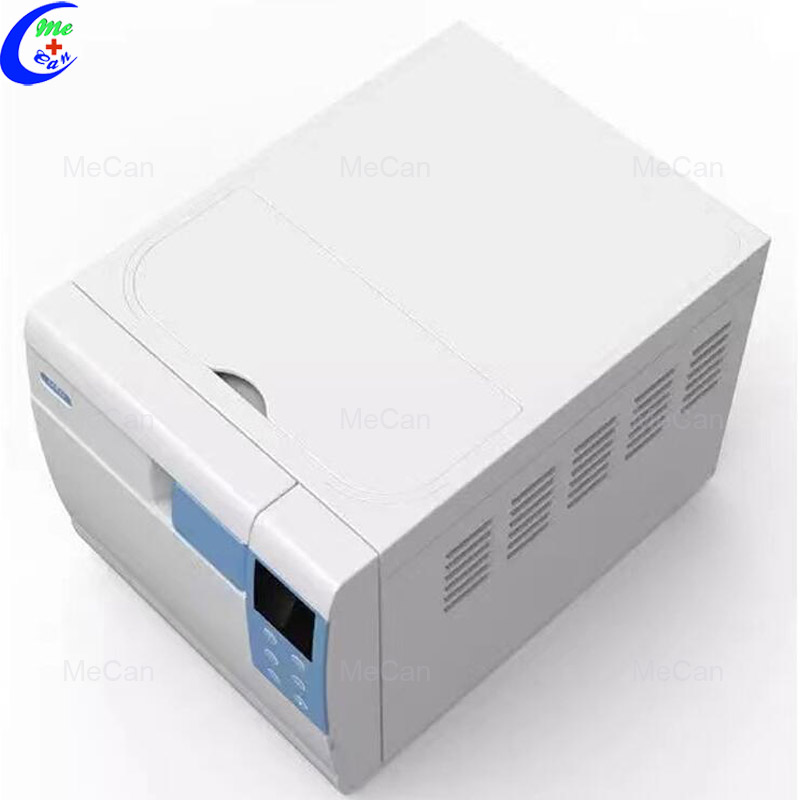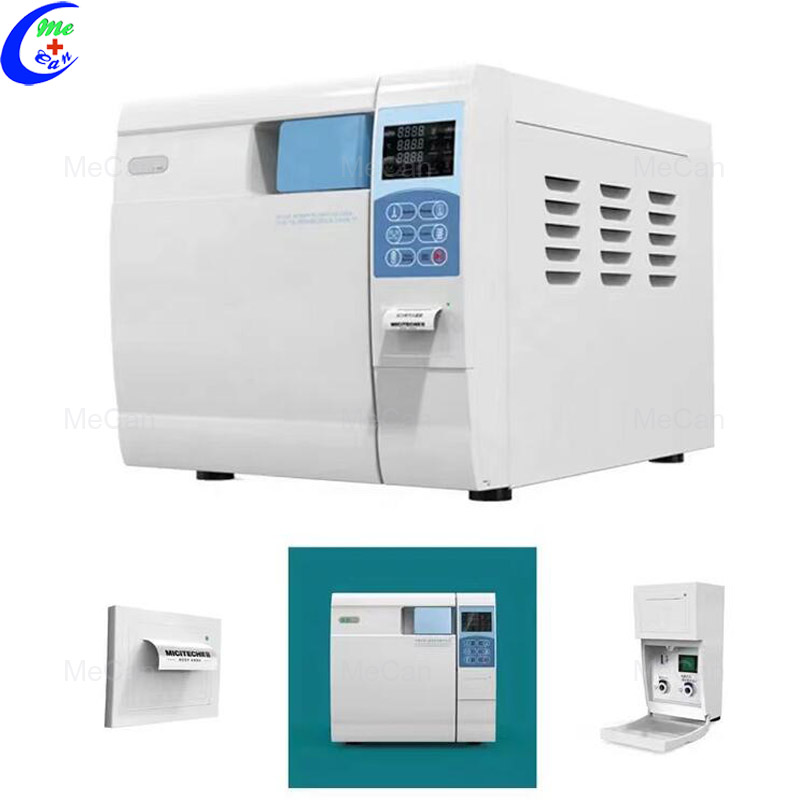 FAQ
1.What is your warranty for the products?
One year for free
2.What is the delivery time?
We have shipping agent, we can deliver the products to you by express, air freight, sea. Below is some delivery time for
your reference: Express: UPS, DHL, TNT, ect (door to door) United States(3 days),Ghana(7 days), Uganda(7-10 days),
Kenya(7-10 days), Nigeria(3-9 days) Hand carry Send to your hotel, your friends, your forwarder,your sea port or your
warehouse in China. Air freight(from airport to airport) Los Angeles(2-7 days), Accra(7-10 days), Kampala(3-5 days),
Lagos(3-5 days), Asuncion(3-10 days)...
3.What is your lead time of the products?
40% of our products is in stock, 50% of the products need 3-10 days to produce, 10% of the products need 15-30 days
to produce.
Advantages
1.OEM/ODM, customized according to your requirements.
2.Every equipments from MeCan gets passed strict quality inspection,and final passed yield is 100%.
3.More than 20000 customers choose MeCan.
4.MeCan provide one stop solutions for new hospitals, clinics, labs and universities, has helped 270 hospitals, 540 clinics,
190 vet clinics to set up in Malaysia, Africa, Europe, etc. we can save your time, energy and money.
About MeCan Medical
Guangzhou MeCan Medical Limited is a professional medical and laboratory equipment manufacturer and supplier. For
more than ten years, we engage in supplying competitive price and quality products to many hospitals and clinics,
research institutions and universities. We satisfy our customers by offering comprehensive support, purchase convenience
and in time after sale service. Our main products include Ultrasound Machine, Hearing Aid, CPR Manikins, X-ray Machine
and Accessories, Fiber and Video Endoscopy, ECG&EEG Machines, Anesthesia Machines, Ventilators, Hospital furniture,
Electric Surgical Unit, Operating Table, Surgical Lights, Dental Chairs and Equipment, Ophthalmology and ENT Equipment,
First Aid Equipment, Mortuary Refrigeration Units, Medical Veterinary Equipment.