Medical Digital Portable x ray Wireless Flat Panel Detector
Model:MCI0014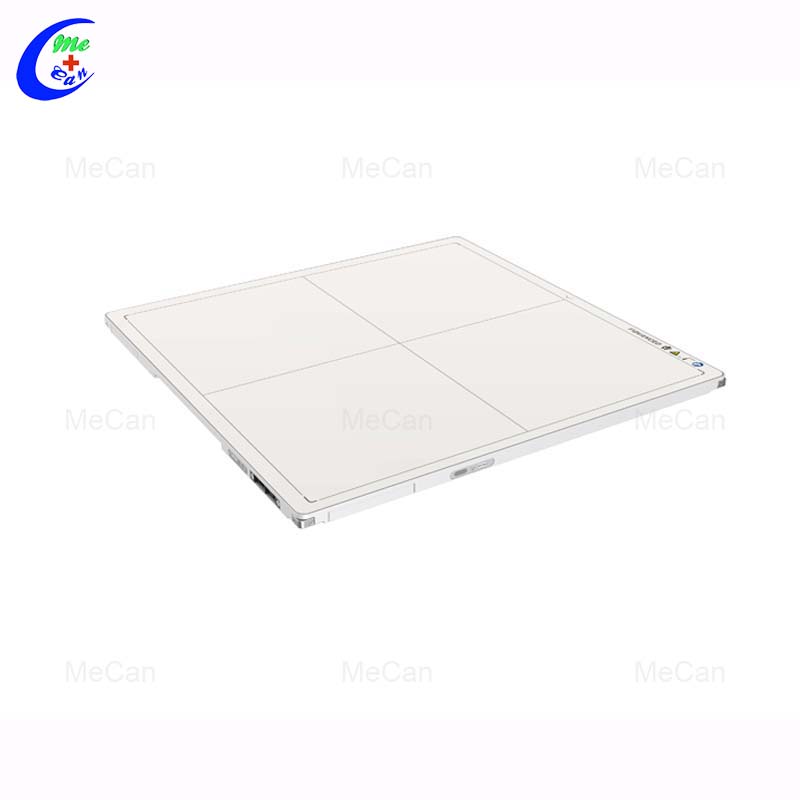 Introduction:
MCI0014 is a smart 14×17-inch wireless, cassette-sized FPD for radiographic imaging. It features reliable AED, dependable wireless performance, and a long battery life. It supports a fast work flow, and is the optimal choice for both retrofit and new DR system solutions.
Features:
1.150 μm pixel pitch, with 16 bit ADC for more image details
2.Stable iSync+ Automatic Exposure Detection (AED)
3.Dual band (2.4 and 5 GHz) wireless support with easy sharing
4.Long battery life and smart workflow
5.Direct deposition CsI for better image quality
Parameter:

Technology:
1.Amorphous Silicon (a-Si) Sensor
An amorphous silicon (a-Si) image sensor for X-ray imaging consists of a two-dimensional pixelated structure. Each pixel contains
a switching thin-film transistor (TFT) and a light sensitive photodiode. Both these elements are fabricated with a-Si through a photolithography process onto a large area glass substrate.
2.Flexible Sensor
A flexible image sensor for X-ray imaging consists of a twodimensional structure, in which both the TFTs and photodiodes are fabricated on a flexible substrate. This enables the development of thin, lightweight, bendable and extraordinarly rugged portable X-ray detectors.
3.CsI Scintillator
Many detectors use cesium iodide doped with thallium (CsI:Tl as a scintillator. The CsI:Tl is evaporated directly onto the sensor array, and is therefore in direct contact with the light sensing pixel elements. The needle like structure of directly deposited CsI acts as light fibers, hereby preventing lateral spread of light, and improving the Modulation Transfer Function (MTF.
4.Full Field Automatic Exposure Detection (AED)
Full field Automatic Exposure Detection (AED) uses the active area of the image sensor to detect X-rays. It will trigger the detector for image acquisition without having to electrically interface it with the X-ray generator. The iRay AED has immunity against interference sources to avoid false triggers, while the full field detection ensures high sensitivity without missed trigger events.
5.On-board Image Correction
Detectors are equipped with on-board image correction technology which include defective pixel and image uniformity corrections,

and results in optimal image quality
More picture of the X-ray Wireless Flat Panel Detector: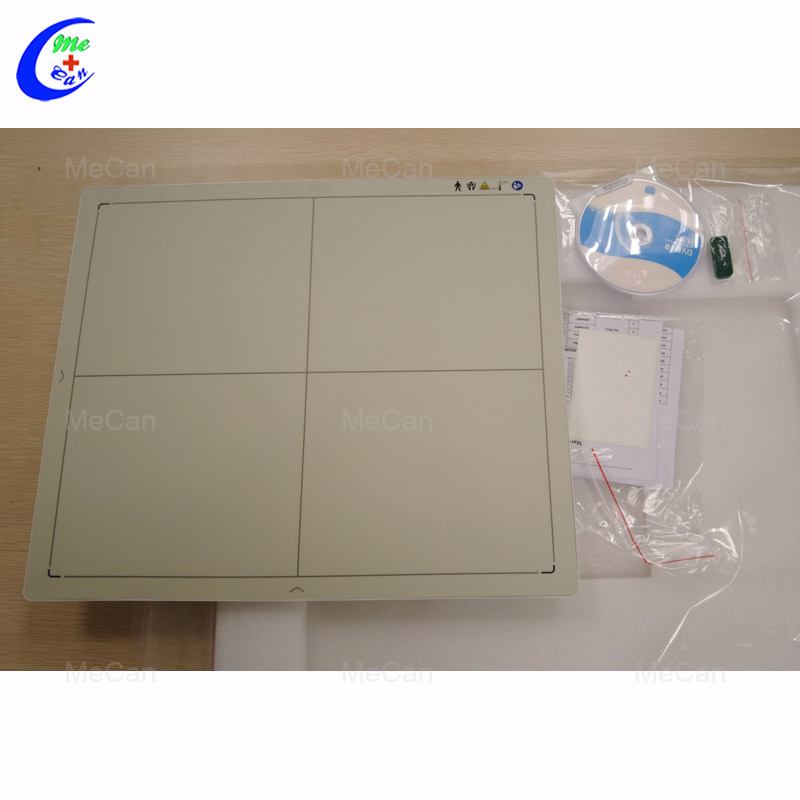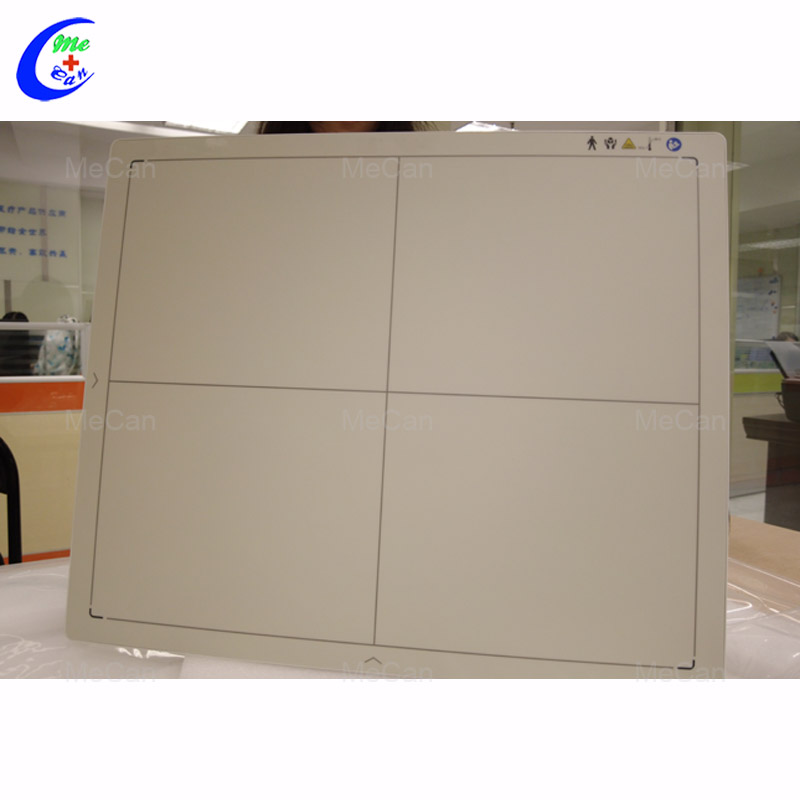 We have CT scanner, MRI Machine, Digital Radiography, Mobile X-Ray Machine, Portable X-Ray Machine, C-Arm Machine, Mammography machine, Flat Panel Detector, X-Ray Film Processor and X-Ray Protection Equipment.
FAQ
1.What is your lead time of the products?
40% of our products is in stock, 50% of the products need 3-10 days to produce, 10% of the products need 15-30 days to produce.
2.What is your payment term?
Our payment term is Telegraphic Transfer in advance, Western union, MoneyGram, Paypal, Trade Assurance,ect.
3.What is your warranty for the products?
One year for free
Advantages
1.OEM/ODM, customized according to your requirements.
2.Every equipments from MeCan gets passed strict quality inspection,and final passed yield is 100%.
3.MeCan provide one-stop solutions for new hospitals, clinics, labs and universities, has helped 270 hospitals, 540 clinics,190 vet clinics to set up in Malaysia, Africa, Europe, etc. we can save your time, energy and money.
4.MeCan Focus on medical equipments over 15 years since 2006.
About MeCan Medical
Guangzhou MeCan Medical Limited is a professional medical and laboratory equipment manufacturer and supplier. For more than ten years, we engage in supplying competitive price and quality products to many hospitals and clinics, research institutions and universities. We satisfy our customers by offering comprehensive support, purchase convenience and in time after sale service. Our main products include Ultrasound Machine, Hearing Aid, CPR Manikins, X-ray Machine and Accessories, Fiber and Video Endoscopy, ECG&EEG Machines,
Anesthesia Machine
s,
Ventilator
s,
Hospital furniture
, Electric Surgical Unit, Operating Table, Surgical Lights,
Dental Chair
s and Equipment, Ophthalmology and ENT Equipment, First Aid Equipment, Mortuary Refrigeration Units, Medical Veterinary Equipment.