Multifunction Power Medical Saw Medical Drill
Model: MC-DZ02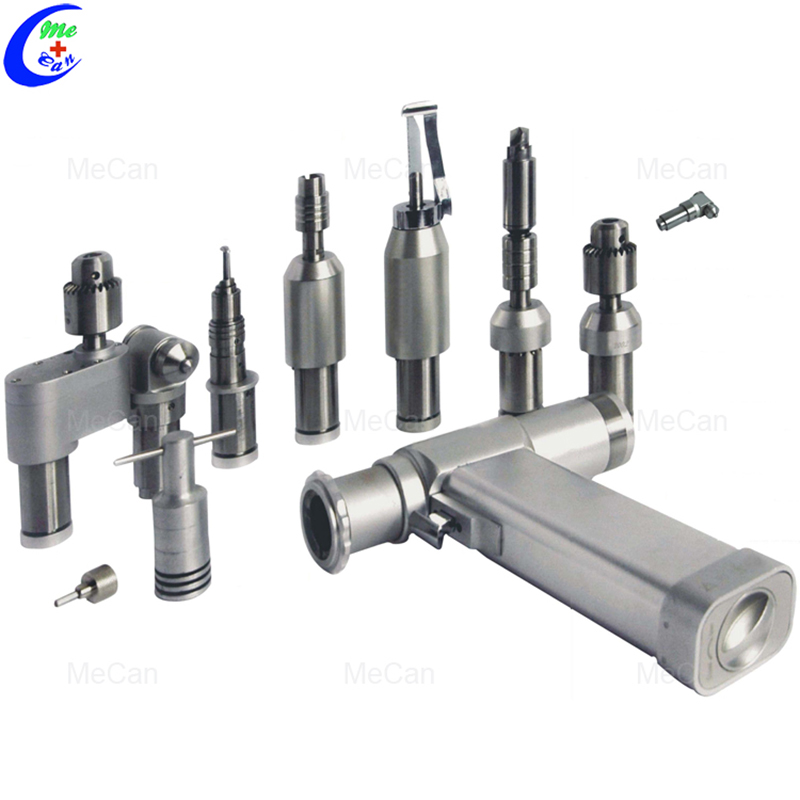 Features:
1. Main frame is made of stainless steel, durable, long working hours, the accessories can be selected freely for different operation.
2. Quick chuck: Imported chuck ensures outstanding performance during operation.
3. Sternum saw: Both 360° rotating head and blade guard can protect soft tissue around sternum.
4. Craniotomy mill: 40000r.p.m rate ensures fast, efficient and safe process in craniotomy.
5. Oscillating saw: 360°rotating head can be applied to any surgical area. Wrench-free device allows easy, fast and safe loading and unloading blades.
6. Reamer: Hi-torque, ideal for acetabulum or medullary operation, available to various mills.
7. Wire and pin chuck: A canula with diameter 4.0mm applies to various intramedullary pin or kirschner pin fixing operation easily and conveniently.
8. Cranial drill: Auto-pause after perforation ensures safety in neurosurgery.
9. Highest quality
10. Perfect ergonomic design
11. Applicable to different kinds of surgery options.
Technical of multifunction medical drill and saw:
Charger input voltage AC220V/50HZ
Unit rise in temperature < 25°
Frequency > 15000rpm
Speed (drill) >600rpm
Speed (acetabulum burnishing drill) >130rpm
Torque (quick chuck) >7500G/C
Torque (reamer) >33000G/C
Torque (HOLLOW DRILL) > 11200G/C
Weight: 3100g
Compositions of medical drill and saw:
Components

Function & feature

Quantity
(pcs)

Multifunctional handpiece

weight: 1.02kg,can connected with seven adapters below, safe, efficient, autoclavable up to 135 degree Celsius

1

cranial drill

speed: 0-900 rpm,stop automatically, no damage for soft tissue to ensure the safety in operation

1

cranial mill

0-40000rpm

1

sternum saw

rotate 360,no damage for sternal soft tissue

1

canulate drill

speed:0-600rpm, can connect all kinds of canal reamer, hollow diametre being 4.0mm, suitable for different K-wire & pin chuck

1

bone drill

speed>1300rpm,imported drill chuck, high Coaxiality, suitable for trauma surgeries

1

oscillating saw

frequency:18000rpm, used for joint surgeries

1

acetabular drill

speed:0-450rpm, can connect kinds of acetabular reamer & hip cavity reamer

1

battery

weight:0.36kg, could last for 30 minutes after fully charged

2

charger

110-220V, plug could be made European & American type

1

saw blades

imported material, could be used repeated

2

sterilizing channel

the battery could not be sterilized, it could be sterilized by this

1

high temperature cover

block up the connetor part of handpiece while sterilizing

1

aluminiun carrying box

Package of the above items

1

Optional
sterilization case

it has cover, the components need to be placed in order during sterilizing

1
Remark: components & accessories could be changed according to requirement, the standard configuration: one hand piece, one charger, two batteries, seven adapters, two oscillating saw blades, two sternum saw blades, one high temperature cover, one sterilizing channels
More detail of our seven functions medical drill saw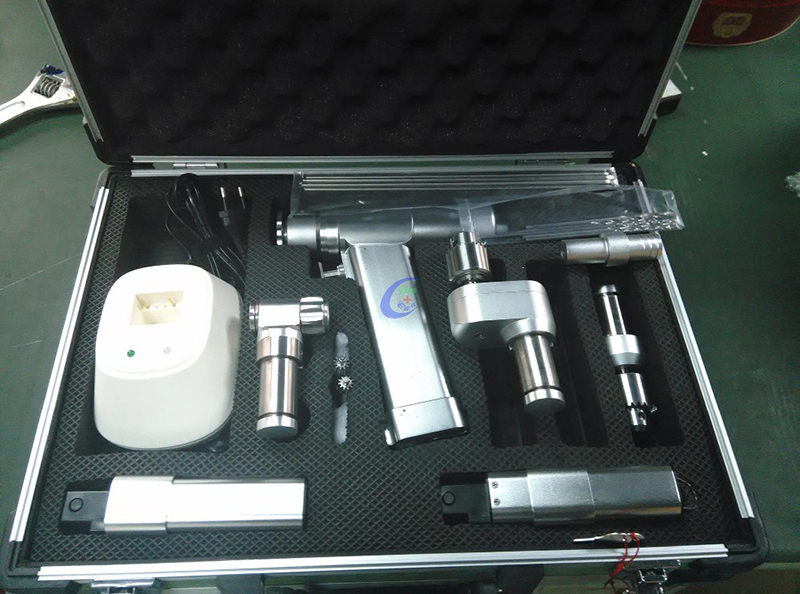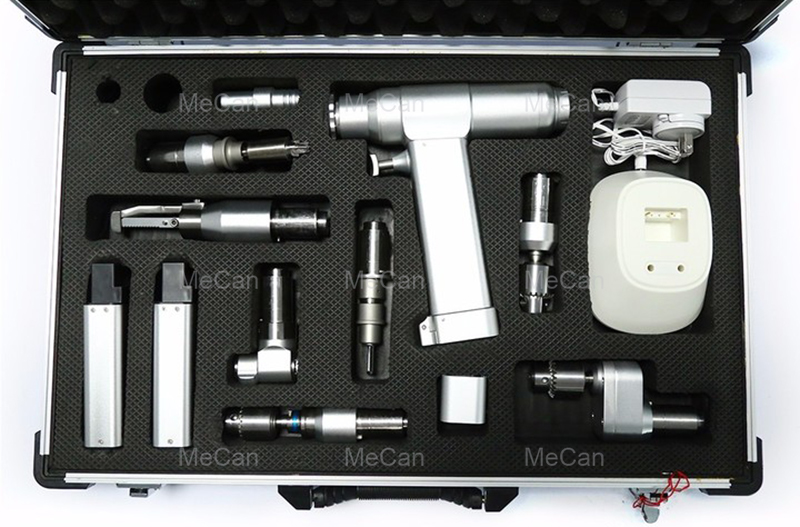 The product is increasingly suitable for different occasions.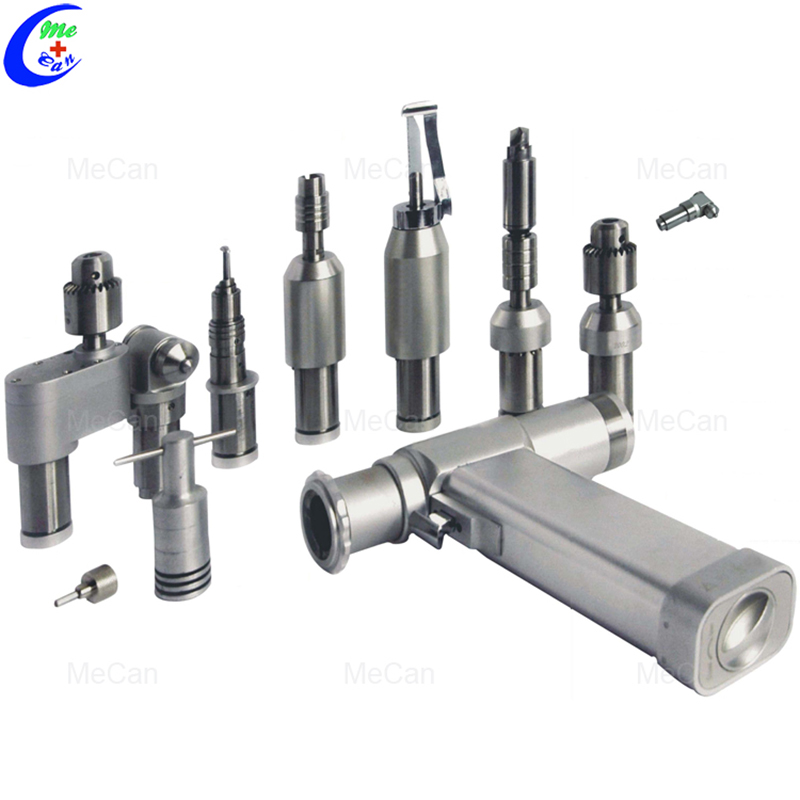 FAQ
We have a professional R&D team that continuously upgrades and innovates products.
2.What is your lead time of the products?
40% of our products is in stock, 50% of the products need 3-10 days to produce, 10% of the products need 15-30 days to produce.
3.What is the delivery time?
We have shipping agent, we can deliver the products to you by express, air freight, sea. Below is some delivery time for your reference: Express: UPS, DHL, TNT, ect (door to door) United States(3 days),Ghana(7 days), Uganda(7-10 days), Kenya(7-10 days), Nigeria(3-9 days) Hand carry Send to your hotel, your friends, your forwarder,your sea port or your warehouse in China. Air freight(from airport to airport) Los Angeles(2-7 days), Accra(7-10 days), Kampala(3-5 days), Lagos(3-5 days), Asuncion(3-10 days)...
Advantages
1.OEM/ODM, customized according to your requirements.
2.Every equipments from MeCan gets passed strict quality inspection,and final passed yield is 100%.
3.More than 20000 customers choose MeCan.
4.MeCan offer professional service,our team is well-tained
About MeCan Medical
Guangzhou MeCan Medical Limited is a professional medical and laboratory equipment manufacturer and supplier. For more than ten years, we engage in supplying competitive price and quality products to many hospitals and clinics, research institutions and universities. We satisfy our customers by offering comprehensive support, purchase convenience and in time after sale service. Our main products include Ultrasound Machine, Hearing Aid, CPR Manikins, X-ray Machine and Accessories, Fiber and Video Endoscopy, ECG&EEG Machines, Anesthesia Machines, Ventilators, Hospital furniture, Electric Surgical Unit, Operating Table, Surgical Lights, Dental Chairs and Equipment, Ophthalmology and ENT Equipment, First Aid Equipment, Mortuary Refrigeration Units, Medical Veterinary Equipment.