Dialyzer Reprocessing Machine for Hemodialysis
MC-RM168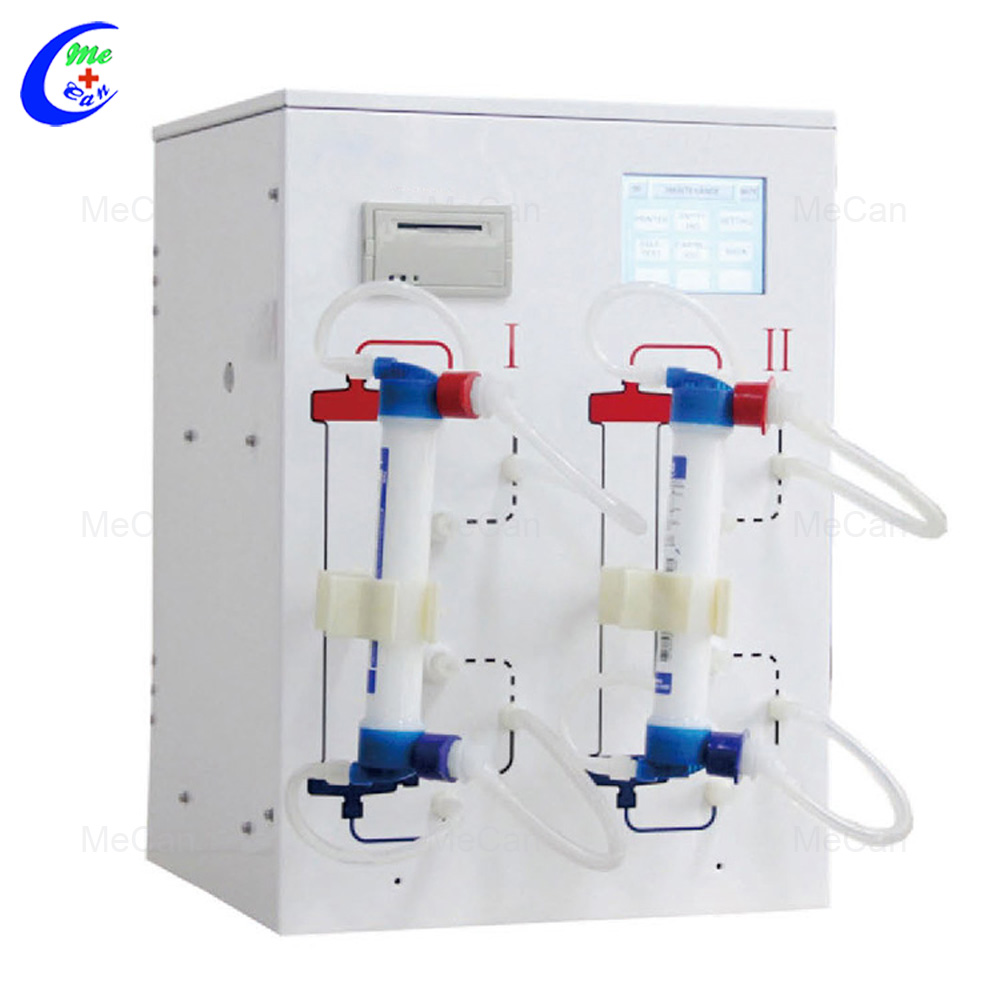 Function
1. MC-RM168A /MC-RM168B dialyzer reprocessing machine are the first automatic dialyzer reprocessing machine in the world, and MCRM168B with double workstation. Our perfectness comes from professional and advanced technology, that makes our products legal, safe, and stable.
2. MC-RM168A / MC-RM168B Dialyzer Reprocessing Machine are the main device for hospital to sterilize, clean, test and affuse reusable dialyzer used in hemodialysis treatment.
3. Procedure of Reusing Processing:
[Rinse]----Using RO water to rinse dialyzer.
[Clean]----Using disinfectant to clean dialyzer.
[Test] -----Testing blood chamber capacity of dialyzer and whether the membrane is broken or not.
[Disinfect] ---Using disinfectant to affuse dialyzer.
4. Be used in hospital only.
Technical Parameter
Size & Weight
Size: MC-RM168A 470mm×380mm×480mm (L*W*H)
MC-RM168B 480mm×380mm×580mm (L*W*H)
Weight: MC-RM168A 30KG
MC-RM168B 35KG
Power Supply:AC 220V±10%, 50Hz-60Hz, 2A
Input power: 150W
Water input pressure: 0.15~0.35 MPa (21.75 P.S.I.~50.75 P.S.I.)
Water input temperature: 10℃~40℃
Minimum water Inlet flow : 1.5L/min
Reprocessing time: about 12 minutes per cycle
Work environment: temperature 5℃~40℃ at relative humidity of no more than 80%.
Storage temperature should be between 5℃~40℃ at relative humidity of no more than 80%.
Features
PC work station:can create,save, search the patients database; operation standard of nurse; easily scan the code to send the signal for reprocessor running automatically;
Effective when reprocessing single or double dialysers at one time.
Cost-effective: compatible with many brands of disinfectant.
Accuracy & safety: automatic disinfectant dilution
Anti-cross infection control: extra blood port header to prevent infection among patients.
Record function: print reprocessing data, such as name, sex, number of case, date, time, etc.
Double printing: built-in printer or optional external printer(adhesive sticker)
Why to choose MC-RM168B Dialyzer Reprocessing:
1. Adopting pulsating current oscillation technique, in the form of positive and reverse rinse as well as positive and reverse UF to eliminate the leftover in dialyzer in a short time to resume cell volume, so as to prolong the life span of dialyzers.
2. The accurate and efficient test of TCV and blood leak, reflect directly the situation of reprocessing, thus assured the safety of the whole course.
3. Rinse, cleaning, testing and disinfectant affusion could be done either respectively or together, suiting different requirements.
4. Functions like reprocessing system setting, disinfection of machine and debugging are introduced under the main menu.
5. The auto setting of reprocessing run the evacuation before affusion, in order to prevent the redilution of disinfectant.
6. The special design of concentration detection ensures the accuracy of disinfectant and safety of disinfection.
7. Human-oriented design of touch control LCD makes the operation easy.
8. Only a tap and the whole reprocessing would run automatically.
9. The stored information of model capacity ultra filtration coefficient etc makes operation easy and accurate.
10.Functions of troubleshooting tips and shooting alarming reflect the situation timely to the operator.
11.The adoption of 41 patents improved the quality while decreased water use (less than 8L once for per dialyzer)
Contraindication:
This machine is designed, made and sold for reusable dialyzer only.
The following five kinds of dialyzers can not be reused in this machine
(1) the dialyzer which has been used by the positive hepatitis B virus patient
(2) the dialyzer which has been used by the positive hepatitis C virus patient
(3) the dialyzer which has been used by the HIV carriers or HIV AIDS patient
(4) the dialyzer which has been used by other patient with blood-infectious disease
(5) the dialyzer which has been used by the patient who has an allergy to disinfectant used in reprocessing.
MeCan Medical is made by high-performance and durable components and parts. These include pumps, compressors, generators, and other welding and soldering parts.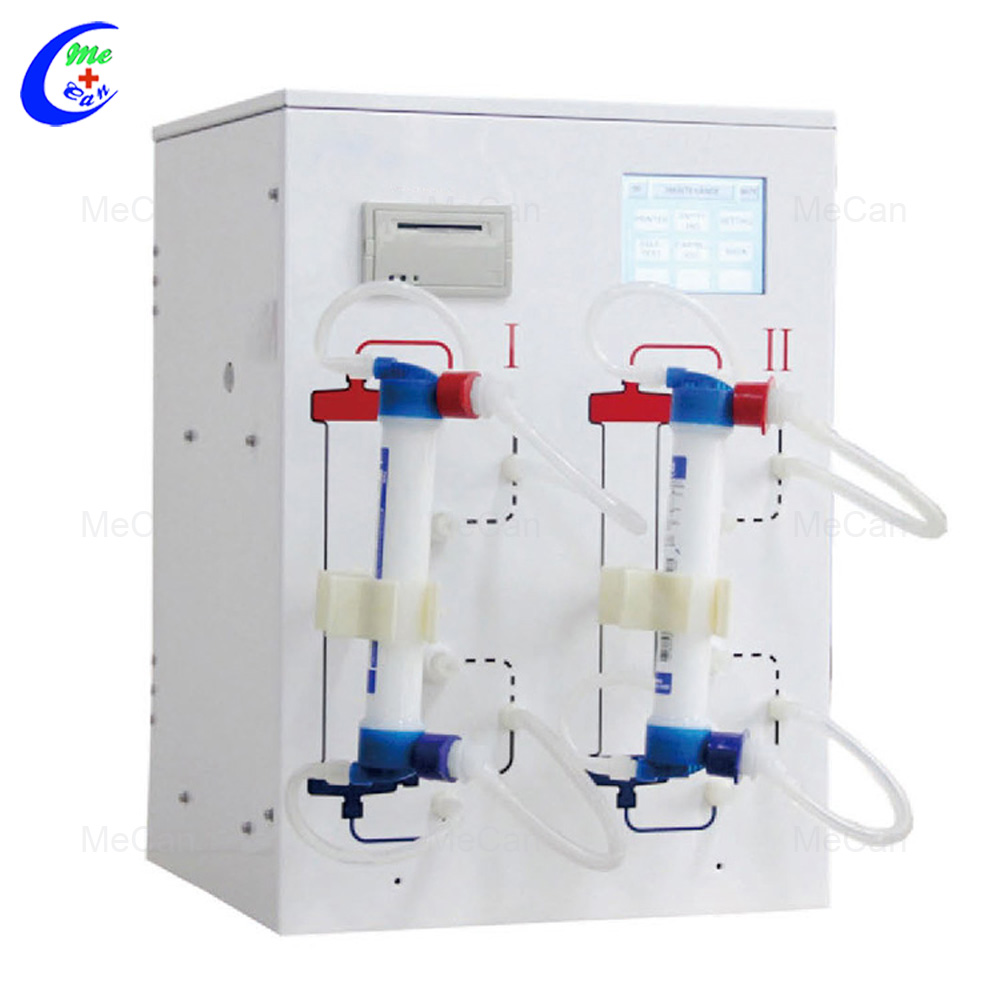 FAQ
1.What is your after-sales service?
We provide technical support through operating manual and video; Once you have questions, you can get our engineer's prompt response by email,phone call,or training in factory. If it's hardware problem, within the warranty period, we will send you spare parts for free, or you send it back then we repair for you freely.
We have a professional R&D team that continuously upgrades and innovates products.
we have a professional quality control team to ensure that the final pass rate is 100%.
Advantages
1.OEM/ODM, customized according to your requirements.
2.MeCan provide one-stop solutions for new hospitals,clinics,labs and universities,has helped 270 hospitals,540 clinics,190 vet clinics to set up in Malaysia,Africa,Europe,etc.we can save your time,energy and money.
3.Every equipments from MeCan gets passed strict quality inspection,and final passed yield is 100%.
4.More than 20000 customers choose MeCan.
About MeCan Medical
Guangzhou MeCan Medical Limited is a professional medical and laboratory equipment manufacturer and supplier. For more than ten years, we engage in supplying competitive price and quality products to many hospitals and clinics, research institutions and universities. We satisfy our customers by offering comprehensive support, purchase convenience and in time after sale service. Our main products include Ultrasound Machine, Hearing Aid, CPR Manikins, X-ray Machine and Accessories, Fiber and Video Endoscopy, ECG&EEG Machines, Anesthesia Machines, Ventilators, Hospital furniture, Electric Surgical Unit, Operating Table, Surgical Lights, Dental Chairs and Equipment, Ophthalmology and ENT Equipment, First Aid Equipment, Mortuary Refrigeration Units, Medical Veterinary Equipment.