The Features of Medical Electric Portable Syringe Pump
1. 4.3' color segment LCD screen, backlight display, can be used in various lighting conditions
2. Simultaneous display: Time, Battery indication, Injection state, Mode, Speed, Injection volume and time, Syringe size, Alarm sound, Block, Accuracy, Body weight, Drug dose and liquid amount
3. Speed, time, volume and drug amount can be adjusted via remote control, easier operation, save time of doctor and nurse
4. Advanced technology, based on Linux system, more safe and steady
5. Multi injection modes: Volume/Time/Body weight mode
6. Visible and audible alarms cover all abnormal conditions
Technical Specification
Injection Rate Range
50ml syringe : 0.1~999.9ml/h (step :0.1ml/h)
1000~1800ml/h (step : 1ml/h)
30ml syringe :0.1~900ml/h (step :0.1ml/h)
20ml syringe :0.1~600ml/h (step :0.1ml/h)
10ml syringe :0.1~300ml/h (step :0.1ml/h)
5ml syringe :0.1~150ml/h (step :0.1ml/h)
Purge Rate
50ml syringe: 1800ml/h (Bolus rate: 1200ml/h)
30ml syringe:900ml/h (Bolus rate: 600ml/h)
20ml syringe:600ml/h (Bolus rate: 400ml/h)
10ml syringe:300ml/h (Bolus rate: 200ml/h)
5 ml syringe:150ml/h (Bolus rate: 100ml/h)
Mechanical Precision
Within±2%
Preset Volume Range
0.1~1999.9ml
Occlusion Alarm Threshold
High: 800mmHg±200mmHg (106.7kPa± 26.7kPa)
Medium: 500mmHg ± 100mmHg (66.7kPa± 13.3kPa)
Low: 300mmHg ± 100mmHg (40.7kPa± 13.3kPa)
KVO Rate
0.1~5ml/h (step: 0.1 ml/h)
Fuse
F1AL/250V
2 pcs (installed inside pump)
Power Supply
100~220V, 50Hz, Built in Rechargeable Li-ion battery, 11.1V, Capacity ≥2000mAh; by charging 10 hours, it can work at 5ml/h (GB 9706.27-2005 medium rate) for 4 hours
Environment Requirement
Operation: a) Ambient temperature: +5℃~+40℃
b) Relative humidity: 20%~ 90%
c) Atmosphere Pressure: 86.0~106.0 (kPa)
Transportation & Storage: a) Ambient temperature: -30℃~+55℃
b) Relative humidity: ≤95%
c) Atmosphere Pressure: 50.1~106.0 (kPa)
Alarm
Near, Injection finished, Preset dose injection finished, Occlusion, Syringe off, Syringe dislocated, Low battery, AC power off
Safe Class: Class I Type BF
Size: 282mm(L)×210mm(W)×148mm(H)
Weight:2.2Kg
Frequent switch on and off will easily burn out the bulbs while this product, unlike the traditional lamps, it can be switched on and off frequently without the worry of damaging its chips.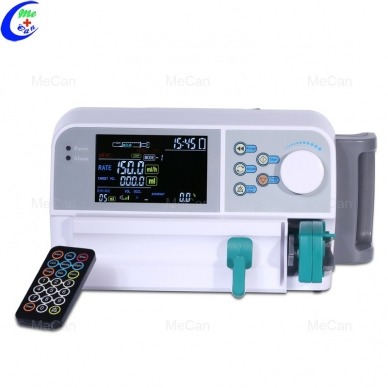 FAQ
1.What is your after-sales service?
We provide technical support through operating manual and video; Once you have questions, you can get our engineer's prompt response by email,phone call,or training in factory. If it's hardware problem, within the warranty period, we will send you spare parts for free, or you send it back then we repair for you freely.
2.What is your payment term?
Our payment term is Telegraphic Transfer in advance,Western union, MoneyGram,Paypal, Trade Assurance,ect.
we have a professional quality control team to ensure that the final pass rate is 100%.
Advantages
1.MeCan Focus on medical equipments over 15 years since 2006.
2.MeCan provide one-stop solutions for new hospitals,clinics,labs and universities,has helped 270 hospitals,540 clinics,190 vet clinics to set up in Malaysia,Africa,Europe,etc.we can save your time,energy and money.
3.Every equipments from MeCan gets passed strict quality inspection,and final passed yield is 100%.
4.More than 20000 customers choose MeCan.
About MeCan Medical
Guangzhou MeCan Medical Limited is a professional medical and laboratory equipment manufacturer and supplier. For more than ten years, we engage in supplying competitive price and quality products to many hospitals and clinics, research institutions and universities. We satisfy our customers by offering comprehensive support, purchase convenience and in time after sale service. Our main products include Ultrasound Machine, Hearing Aid, CPR Manikins, X-ray Machine and Accessories, Fiber and Video Endoscopy, ECG&EEG Machines, Anesthesia Machines, Ventilators, Hospital furniture, Electric Surgical Unit, Operating Table, Surgical Lights, Dental Chairs and Equipment, Ophthalmology and ENT Equipment, First Aid Equipment, Mortuary Refrigeration Units, Medical Veterinary Equipment.