Professional X-ray System C-Arm X Ray Machine for Operation
Model:MCX-X118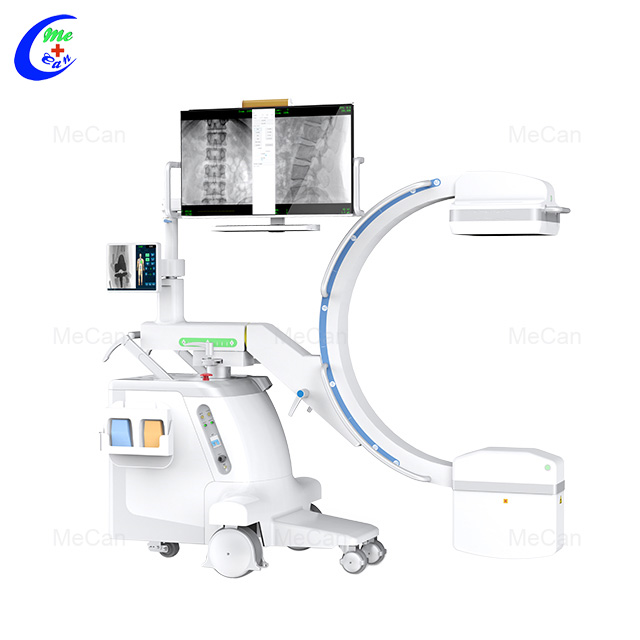 Advantage:
1. Integrated design, Small in size, take only one square meter
2. Non-netpower standby design
3. Two way laser positioning
4. Low Dose mode & frequency conversion
5. Removable grid
6. Dynamic FPD VS Intensifier, Higher pixel range, wider dynamic range
Features:
1. Independent research and development of the integrated C-arm main frame, which is light and dexterous and suitable for various surgical postures;
2. Using 9-inch dynamic flat panel detector, output gray scale 16bit, high DQE, low noise, dynamic range promotion, imaging.The performance is superior, the image is clear, and it can meet various clinical examination needs;
3. The image processing software adopts a GPU-based fast dynamic image processing and display platform (RCDPS), multi-resolution,analysis of image enhancement processing technology, different image processing for different parts, to meet the diverse needs of customers;
4. Independent research and development of high-frequency and high-voltage generator to realize high-frequency pulse fluoroscopy and reduce dose;
5. Gigabit network is used to connect with the dynamic flat panel detector; Dicom3.0 international standard interface is provided, which is convenient to connect to the PACS system for transmission and printing;
6. The humanized image control interface, intelligently control the dose, reduce the cumbersome operation, and is suitable for surgical needs; according to clinical presets;
The fluoroscopy parameters of human body features such as parts, multi-positions, multi-body types, such as adults and children, are easy to operate;
7. With multiple automatic protection and fault code prompt functions, maintenance is more convenient;
8. With balanced design, the C-arm frame can hover at any angle when it is unlocked to ensure safe and stable operation of the equipment;
9. The large-size touch-control operation screen is adopted, with high sensitivity and flexible rotation, which is convenient for clinicians to touch at all angles of the machine to control operation;
10. 32-inch ultra-wide screen display, large-size 4K liquid crystal display, the image display is clear and delicate; the display can be rotated at a large angle, meet the needs of clinical multi-angle observation images;
11. One-key switch machine design, which can quickly start the machine, and in case of emergency (such as emergency rescue), you can quickly start the machine, start the work in time by moving the machine, which greatly improves work efficiency;
12. Non-network power standby design, this equipment can realize the non-network power standby transition between multiple operating rooms, improving the efficiency of the equipment work efficiency;
13. Two-way laser positioning, laser positioning systems are installed at both ends of the tube and flat-panel detector to meet different positions, the positioning requirements under the five rays can reduce the radiation dose of doctors and patients while improving the efficiency of clinical work;
14. High-frequency inverter technology, the ray waveform presents a rectangular wave with low scattering lines, which prevents the generation of soft rays from the source to ensure precise radiation dose control effectively cares for the health of doctors and patients;
15. With low-dose mode, the machine is equipped with a variety of clinical low-dose exposure parameters to strictly control unnecessary radiation,shot dose;
16. Beam beam preview, with beam beam preview function, can realize the adjustment of the size of the exposure range in the wireless state; significantly reduce the radiation caused by repeated clinical exposure. And automatically adjust the size and position of the image interest area, using automatic mode, the formula is more accurate;
17. The grid is pluggable in design and conforms to domestic industry standards. It is used in pediatrics and other dose-sensitive clinical applications, easy to use, while ensuring clear images, it can effectively protect against radiation hazards;
18. Intelligent frequency conversion technology automatically adjusts the image frame frequency according to the body part and radiation dose, ensuring image quality;
19. Intelligent real-time image processing technology, which automatically analyzes images and performs enhancement processing, reducing image processing in clinical applications timely cumbersome operation, quickly provide high-quality images to facilitate the completion of clinical work;
20. Fast and stable drawing design in 1 second can save clinicians' waiting time during clinical application and improve work efficiency;
21. With the DAP dose display, you can directly observe the dose display during the use of the machine to protect the health of doctors and patients.
Specification:
Imaging system

Detector




Effective Area: 9*9inch (21*21cm)

Matrix: 1344*1344

Dynamic range: 16bit

Pixel size: 154um

Spatial resolution:3.2lp/mm

DQE:77%

Imaging speed: 1 second to produce images

Monitor

All-in-one computer 32-inch LCD monitor

Workstation software

Information management: registration and preservation, medical record query, modification, remote query registration, report form, save, preview;

Image post-processing: start to capture, prepare for recording, reset, horizontal mirroring, vertical mirroring, window adjustment, magnifying glass, negative;

Image, edge enhancement, recursive noise reduction;

Image storage and transmission: print film, check SCP service, and send files;

Image measurement and identification: measurement, advanced;

support DICOM3.0;

The gray level of the image clarity index of the whole machine: Level 17.

Structure and performance

Monitor arm

Display arm: three-axis articulated arm

The rotation angle of the horizontal;

movement of the display: 1-axis ±90 degrees, 2-axis ±135 degrees, 3-axis ±90 degrees;

Display the axial rotation angle (up and down tilt): -15°-45°.

C-arm movement

Motor-driven vertical travel: 380mm-420mm;

Horizontal travel: 190mm-200mm;

Angulation : ±180°;

C-arm swiveling: ±12°-±18°;

Distance from focus to screen: 1000 mm;

C-arm open distance: 800mm

C-arm arc depth: 660mm;

Slipping on orbit : 130°-140°
more pictures of our factory: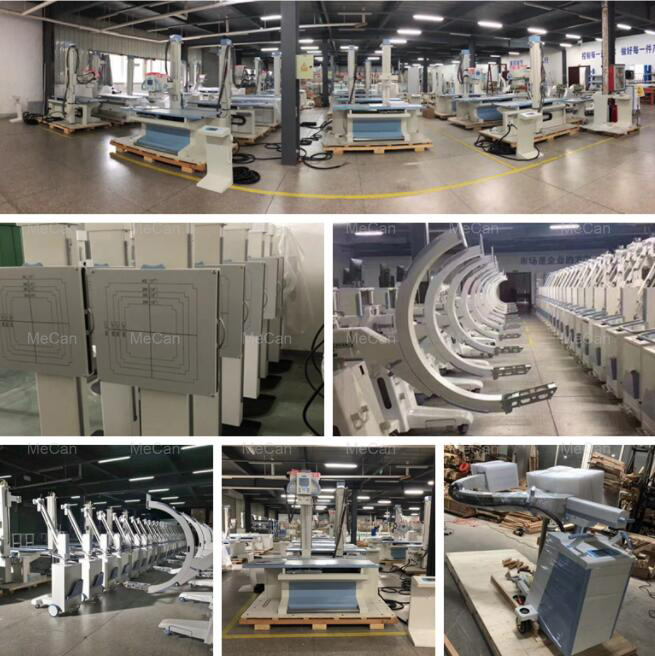 FAQ
1.What is your lead time of the products?
40% of our products is in stock,50% of the products need 3-10 days to produce,10%of the products need 15-30 days to produce.
2.What is your payment term?
Our payment term is Telegraphic Transfer in advance,Western union, MoneyGram,Paypal, Trade Assurance,ect.
3.What is the delivery time?
We have shipping agent,we can deliver the products to you by express,air freight,sea.Below is some delivery time for your reference: Express:UPS,DHL,TNT,ect (door to door) United States(3 days),Ghana(7 days),Uganda(7-10 days),Kenya(7-10 days),Nigeria(3-9 days) Hand carry Send to your hotel,your friends,your forwarder,your sea port or your warehouse in China. Air freight(from airport to airport) Los Angeles(2-7 days),Accra(7-10 days),Kampala(3-5 days),Lagos(3-5 days),Asuncion(3-10 days) Se
Advantages
1.MeCan offer professional service,our team is well-tained
2.More than 20000 customers choose MeCan.
3.MeCan provide one-stop solutions for new hospitals,clinics,labs and universities,has helped 270 hospitals,540 clinics,190 vet clinics to set up in Malaysia,Africa,Europe,etc.we can save your time,energy and money.
4.Every equipments from MeCan gets passed strict quality inspection,and final passed yield is 100%.
About MeCan Medical
Guangzhou MeCan Medical Limited is a professional medical and laboratory equipment manufacturer and supplier. For more than ten years, we engage in supplying competitive price and quality products to many hospitals and clinics, research institutions and universities. We satisfy our customers by offering comprehensive support, purchase convenience and in time after sale service. Our main products include Ultrasound Machine, Hearing Aid, CPR Manikins, X-ray Machine and Accessories, Fiber and Video Endoscopy, ECG&EEG Machines,
Anesthesia Machine
s,
Ventilator
s,
Hospital furniture
, Electric Surgical Unit, Operating Table, Surgical Lights,
Dental Chair
s and Equipment, Ophthalmology and ENT Equipment, First Aid Equipment, Mortuary Refrigeration Units, Medical Veterinary Equipment.